E-Commerce website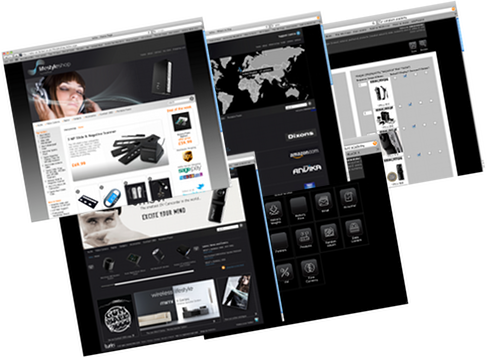 E Commerce Screenshots
We can work with you on Joomla!, WordPress or other E-Commerce website "engines", but this page highlights our own e-commerce product.
Our client is a graphic designs company. They approached Jet Net Systems to create a completely customised website from the ground up.
Jet Net designed the underlying database and the website pages, from the designs created by the graphic designs company.
Content Management System
The e-commerce site is also a Content Management System (CMS) providing administration facilities to provide the website owner with the ability to change many aspects of the website themselves.
Multi-Currency Product Management
The website ownert has the ability to upload product details, images and prices in
British Pounds
Euros and
US Dollars.
Website clients are identified by their country, and relevant prices in Pounds Sterling, Euros or US Dollars are presented to them.
Discount Code Management
The CMS also provides a discount code management facility with a time-limit date. All the products on the website can also be time-limited to only display between two dates.
Partner retailers displayed on an interactive map
Website clients can also look for trade or online retailers of the website owner's products through use of an interactive world map detailing partners which the website owner can change through the CMS.
Featured and product randomisation
The CMS provides also for management of adverts that appear on the site:
Large banner adverts
Featured products from one category
A selection of other products from other categories not in the featured products.
Click see all our featured products
e-mail:
andy@jet-net.co.uk