Compliance Standards Auditing Tool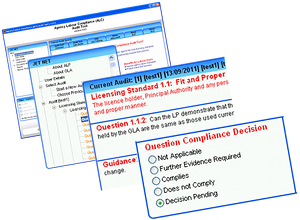 Screen shots
Our client required a process akin to a "super checklist" for their members to check that they were adhering to the standards and good practice for their industry, and could produce documentary evidence to show that they were complying.
Our client is a trade association supporting their members to raise standards and promote good practice across their industry.
We liased with our client to understand their requirements and developed an application to provide what our client desired.
What people say about this Application:
Corporate Social Responsibility Director: "We have found the tool to be a straightforward and effective tool to use in partnership with our labour provider to maintain and improve the quality of agency labour supply to our business. It has now formed part of our due dilligence process in assuring the ethical and fair treatment of agency workers working in [our] group"
Marks and Spencer: "The overall response was extremely favourable with all testers stating that they found the tool easy to use and that the tool would be a considerable asset to their business"
Operations Manager: "Assuring that workers are treated fairly throughout our supply chain is of paramount importance to our business and to our brand. The Tool supports us in achieving this aim by providing a comprehensive and consistent benchmark against which we monitor our agency labour supply. The structured questions, relevant guidance and reporting tools simplify and standardise our processes."
We continue to work with our client to keep this application up-to-date with the yearly changing standards, and ensure that our client has the tools to be able to send out updates to their clients with the minimum of fuss.
Click see all our featured products
e-mail:
andy@jet-net.co.uk