Jet Net Systems
Jet Net Systems are a business working very closely and collaboratively with our clients in Hampshire and Berkshire. We achieve resolutions to our customers' problems on their websites, or by using computers to make their business processes more productive.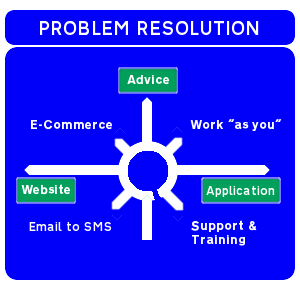 We'll show you the way!

("Hover" over the roundabout
"destinations" for more information)
Why do our customers use us?
Our customers tell us they use Jet Net Systems because we're:
| | |
| --- | --- |
| approachable | friendly |
| local | knowledgeable |
| supportive | capable |
| flexible and | trustworthy. |
... and because we can be contacted directly and understand your issues you'll "feel like a valued customer" too!
What kind of thing do we do?
We can turn our hand to any requirement - here's just a sample of some of the numerous projects we've done:
We aim to be the best IT business analysis, computer application and website software company in Hampshire and Berkshire
Application
Need a custom application for your business on your PC to a specification determined by you?
One of our clients needed a tool to ensure that audits were completed, and if not completed successfully they needed to flag them for addressing later. Click here to see details of our
Compliance Standards Auditting Tool page
for more details of an example application created for (and sold by) our client.
Email-to-SMS
If you need to send emails to mobiles (including older models of mobiles), then our email to text service e2text would be ideal. Click here to see details of our
Email-to-SMS Project Page
for more details of this service.
Advice
We've lots of experience and knowledge and we can give you trusted advice

click here to see our
Business Analysis and Consultancy Page
for more details.
Website
We can do loads of stuff with websites, from adding a widget to an existing website, adding new pages or even payment processing - to clever things that check that your website user has entered sensible information, or even websites you can change yourself!
click here to see our
Websites Page
for more details;
E-Commerce
If you're looking for an online-shop - Click here to see our
E-commerce project page
to see an example. Alternatively, click the Website 'turning' from the roundabout picture or chose the Website Services link from the main menu - for more details of the services we can provide for websites.
Work "as you"
We can work with you as a
virtual
in-house computer consultant working for you as part of your organisation.
Click here to see our
Work "As You"
page for more details on working in parallel.
Support & Training
Support:All of our products come with a limited period of free support.
Training:We can train your staff or yourself to learn how to do website programming yourselves.
Click here to see our
Support and Training page
for more details of these services.
e-mail:
andy@jet-net.co.uk